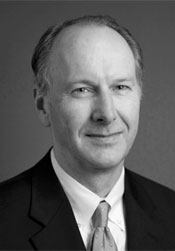 Ken Acer
Senior Managing Director
Ken Acer is a Senior Managing Director of FODIS. He has over thirty-three (33) years of experience working in the industrial safety products industry across a broad variety of roles in both North American and international markets. These responsibilities have included B2B marketing, sales management and distribution development, P&L responsibility, and new product development. In addition, in the past five years as a strategic marketing consultant, he has developed and/or implemented practical CRM tools to enhance order flow and sales pipeline visibility, and managed key customer relationships in diverse fields such as medical diagnostic devices, and chemical product sales in the optoelectronics and lighting markets.
Within FODIS, his specialization is developing strategic marketing plans and market entry strategies for industrial and commercial consumable goods manufacturers and distributors, who are seeking to enter or expand in the US market organically, or through acquisitions, direct investments or joint ventures.
He started his career with MSA Safety Inc. serving in many positions including, US Product Group Marketing Manager for portable gas detection instruments. In that role, he managed the full lifecycle for the product line including product development and launch, forecasting and pricing, and technical support and training to sales and distributors. A significant role included integration of MSA's acquisition of Hazco Services, which at the time was the US leader in repair and service for safety products.
He then joined MSA International as Regional Director managing the P&L of Africa and the Middle East countries, as well as distributor manager for US exports to Europe and Russia. Mr. Acer managed the acquisition and integration of the largest African competitor, eliminating redundant resources and increasing sales efficiency and market coverage, including doubling sales and improving profitability. He managed distributors selling into Oil & Gas, Petrochemical, Mining, Metals, Construction, and Utilities markets, including managing sales growth targets, exclusivity claims, payment terms, and ethics requirements in challenging climates and cultures. He also merged MSA Zimbabwe into a Joint Venture preserving business during hostile national politics. He participated in development of MSA International's strategy: increased market access for sustainable accelerated growth. That strategy highlighted opportunities for selective acquisitions as well as the imperative for dedicated sales teams focused on customer segment specialization, and complemented by international product marketing.
He later became Director of International Marketing and created a team of 55 marketers from zero, developing the people, tools, and processes to create a global professional marketing team for MSA. In this role, he increased MSA International's accessible market by increasing Product Coverage and Customer Coverage, more than doubling sales from $117 million to $257 million in four years, while EBIT grew 150%. This rapid progress was possible due to the development of local resources, which recognized the nuances of local requirements while applying appropriate global processes as required in each unique international region.
Mr. Acer also served as Chairman of the Instruments Product Group in the International Safety Equipment Association (ISEA). He represented the ISEA as a voting member of NFPA 306 – Control of Gas Hazards on Vessels, the "bible" of gas testing used by Marine Chemists on all vessels and ships in US waters, whether in transit or at port, as well as during ship construction, alteration, repair, or salvage. He is also a Qualified Safety Sales Professional, as certified by the ISEA.
In addition to his position with FODIS, which focuses on larger, multi-generational family controlled businesses, holding companies, and family offices and their direct investments, Mr. Acer runs a consulting boutique, Global Launch LLC, which is a member of FODIS's Business Growth Alliance (BGA) subsidiary. That firm provides international marketing consulting for earlier stage and smaller-scale hi-tech companies seeking to achieve sustainable sales growth through either a fresh perspective on existing markets or a different direction for new opportunities.
He also currently serves on the board of United Equipment Accessories (UEA, INC) based in Waverly, Iowa, an industrial supplier of rotating electrical and pneumatic components used in equipment such as windmills, forestry, and construction equipment.
Mr. Acer holds a BS in Chemical Engineering from Cornell University and an MBA from the Tepper School of Business at Carnegie Mellon University. He resides in Pittsburgh, Pennsylvania.