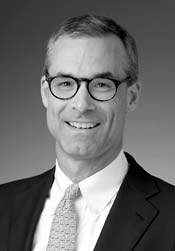 R. Mark Cox
Senior Managing Director
R. Mark Cox is a Senior Managing Director with FODIS. He is a seasoned corporate growth, finance and M&A executive with more than 25 years of corporate development, strategy, M&A, capital markets and joint venture investment experience.
Prior to joining FODIS, for the last 19 years, Mr. Cox had focused on corporate acquisitions and direct investments. He held senior leadership positions at Eaton Corporation, Wabtec Corporation and privately-owned, Stone Canyon Industries, reporting directly to their CEO's and Boards of Directors. In that time, he led successful external corporate growth initiatives, which resulted in originating, negotiating, structuring and closing more than 80 transactions, across 6 continents, aggregating almost $5 billion in transaction value. He began his career after graduate school with top-tier investment banks and after several years leveraged that experience with a move to the "client side" and into corporate development to focus on creating value from inside a corporation.
From 2018 to 2020, Mr. Cox joined Stone Canyon Industries, a billion-dollar privately-owned industrial holding company with interests in multiple industries including rail. He eventually became the Senior Vice President - M&A for Stone Canyon Rail where he was focused on building Stone Canyon's rail platform through acquisition. During his tenure with Stone Canyon Rail, he was instrumental in several significant transactions to grow and diversify the business.
From 2006 to 2018, Mr. Cox served as the Executive Vice President Corporate Development for Wabtec Corporation, where he originated its internal corporate development role and over time grew it into a lean, successful group. He developed a team, as well as a company culture, well-versed in deal execution around the world. Over the ensuing twelve years, the Company completed scores of transactions, across 6 continents and more than quadrupled in size. Wabtec became widely known as the acquirer of choice within the global rail industry. Capping off his tenure at Wabtec was the $1.7bn acquisition of Faiveley Transport, the Company's largest global competitor.
Between 2002 and 2006, when he was recruited by Wabtec, Mr. Cox's first corporate development role was with Eaton Corporation. There he served as the Director for Business Development at the Company's Electrical Group based in Pittsburgh, PA. At that time, the Group was roughly $2bn in revenue but was an identified growth platform for Eaton. His focus was to develop, manage and execute an acquisition pipeline around the world, which ultimately resulted in more than $1bn in transaction value for the Company.
Mr. Cox spent the first 7 years after graduate business school in investment banking where he was exposed to a wide range of industries and clients from small cap privately owned businesses to the global Fortune 100. His experience covered a broad range of investment banking services from public and private financings of debt and equity to mergers, acquisitions and divestitures.
He began his post-graduate school career with Stephens Inc, one of the largest, private family-owned investment banks in the country where he began as a generalist eventually specializing in private debt financings. In 1998, he joined Prudential Securities in New York as a Vice President in the Consumer and Retail Group where he covered a range of food, agribusiness, retail and consumer-oriented clients providing both M&A advice and corporate financings. In 2000, he joined UBS Investment Bank as a Director in the Global Industrial Group where he covered primarily the automotive industry with global clients such as Ford Motor Company, Valeo and Toyota.
Mr. Cox is a "Double Hoo" earning a Bachelor of Science in Commerce from the McIntire School of Commerce at the University of Virginia as well as a Master of Business Administration from the Darden School also at the University of Virginia several years later. He has served on the boards of several non-profits and is presently on the board of Quantum Theatre, one of Pittsburgh's premier professional theatre companies. Mr. Cox is an avid competitive masters swimmer and resides in Sewickley, PA with his wife and 3 daughters.